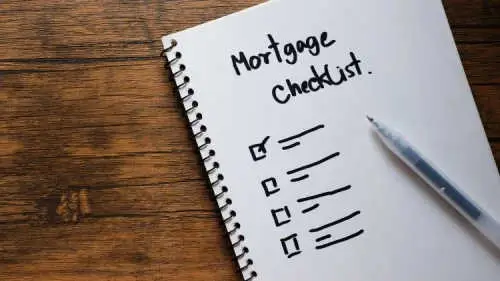 You're in the home stretch: you've found a great home, made an offer and been accepted. You've gone through the home inspection appointments and resolved any issues and now you're waiting for the mortgage underwriting process to wrap up before you finally close on your loan and become a homeowner. While you sit tight, you can prepare yourself for the actual closing by going through this checklist of documents and other requirements to make sure you are completely ready for the big day.
What to Bring to Your Mortgage Closing
Photo ID - Your loan closing is typically conducted by the title company that has background checked your prospective home title. They will verify your identity by asking for a photo ID and making photocopies. Acceptable IDs could include your signed U.S. driver's license, U.S. Identification card, or U.S. foreign passport.

A Cashier's Check - You might need to provide funds at closing. Your down payment, prepaid interest, property taxes, and closing costs are typically all due before you sign the final paperwork. For such a large sum, a personal check is not going to cut it though. You can either provide a cashier's check for the total or move the funds by wire transfer. You should be provided with the exact amount a few days before closing so that you can have time to go to your bank for a cashier's check.

Proof of Homeowners Insurance - Your lender will require you to take out a homeowner's insurance policy before you close to protect their investment. If your home is damaged or destroyed by disaster or accident, the policy will insure that you will be able to repair or rebuild and still be able to keep making your mortgage payments. At closing, your lender will want proof of your policy, such as your declarations page that lists your name, address, your premium, and a description of the home you're insuring.

The Closing Disclosure - This is the document you will have received from your lender at least three days before closing that provides the final loan terms and costs. Be sure to bring this with you to be able to compare any discrepancies on the final paperwork.

Your Co-Borrower - If you are sharing the mortgage with your spouse, partner, friend, or other co-borrower, make sure you can both be present at the closing. All parties signing the mortgage documents will need to present a valid photo ID.

Your Real Estate Agent or Attorney - With so many legal documents to sign, its best to have a professional on hand that's on your side. Your agent or attorney should be very familiar with all the documents you are signing, and can walk you through any questions you may have. They can also identify any legal red flags and protect your interests.

A List of Final Questions - Compile a list of everything you still need to know about the mortgage logistics, like: Where do I send my monthly payments? Or how do I make future property tax and homeowners insurance payments? Make sure you get contact information for who to contact with any further questions.
With a little preparation, your mortgage closing day should go smoothly and help you seamlessly transition to homeownership.
We would love to work with you again. If you have any mortgage related questions, please give us a call today.