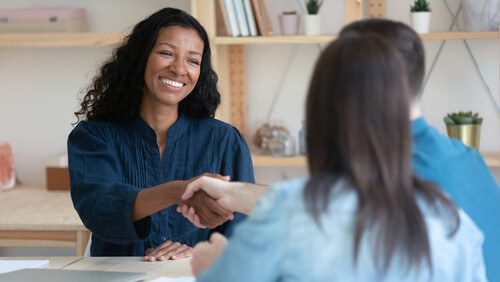 When it comes to buying a home, you already know you'll be dealing with home sellers and your real estate agent. However, there are many more people or parties involved in the full process. Here's a rundown of the people you will likely work with when you buy a property.
Buyers
This is you, but it may also be your spouse, significant other, parents, or adult children if you are co-signing. If there is more than one buyer involved, it is essential that you are all on the same page in terms of the location and price of your preferred purchase.

Seller
If you make multiple offers, you will work with several different buyers. That can mean lots of different negotiation strategies. Keep in mind that person may not be the homeowner. The property could be owned by a bank, investment group or government agency.

Real Estate Agents
The individual who helps you look for homes and negotiate with sellers is called, predictably, the buyer's agent. Hopefully, this person is someone with excellent experience and knowledge and has earned your trust. They will walk you through every step of the purchase process, providing valuable tips and insight along the way.
The agent who helps your seller is called the listing agent. You will not usually have any direct contact with either the seller or their agent; your agent will handle all communication between the parties. You will deal indirectly with them though, especially if there are parts of the contract to be negotiated after inspections or title searches. The commission fees for both agents are paid by the seller out of the home's sale profits.

Mortgage Lender
If you are not paying cash for your home, you will need a mortgage lender. Whether an independent broker, bank, credit union, or other mortgage lending professional, this people should also have a wealth of knowledge to guide you through the financing experience. They can help you determine how much you can afford, what loan programs are available, and which are the best ones for you. You may sometimes work with multiple individuals within a lending company, usually with one main contact and other assistants collecting your data and documents.

Underwriter
Every loan must be checked for risk, including a fact check of all your information and paperwork. This is done by an underwriter, who also reviews your home appraisal and determines a value for property. While you will probably not be talking or emailing with the underwriter personally, your lender will let you know if the underwriter needs more documentation during the process.

Home Inspector
You can hire your own or your agent may have a good suggestion for a home inspector. This trained professional will examine all the relevant details of the home you want to buy, alerting you to things in need of repair and the condition of all the major systems.

Home Appraiser
Your lender will want to be sure that the price you offered is within the fair market value so that they are not lending you too much money. An appraiser is hired to evaluate the condition of the home relative to the surrounding neighborhoods and real estate markets. They will assign a price value to the home, and if your offered price is higher than that you may have to come up with extra cash on your own.

Title Agent
This individual researches the ownership history of the property to make sure there are no liens or other legal claims to it.

Closing Agent
When all the negotiating, inspections, and underwriting are complete, you will meet with a closing agent who reviews the entire mortgage contract with you, helping you to sign on the appropriate spaces, and verifies that the transaction was legal and lawful.

Mortgage Servicer
After your loan closes, the final person or group to deal with is the mortgage servicer. This is the company that receives and processes your home loan payments. This might be your mortgage lender, but most often your loan will be sold off to another company who will take care of your mortgage from that point on.

Hopefully being prepared with the list of people involved in a home sale will help your home loan process go as smoothly as possible.